Old Main Bed and Breakfast
---
New Hartford, Minnesota
---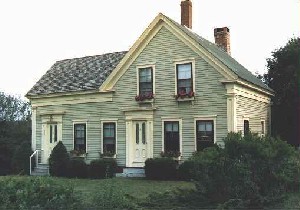 " Confortable lodging, wonderful food, just what you need for that weekend or week away from the world."
Old Main Bed and Breakfast is located in one of the oldest homes in New Hartford. It was built in 1967 by Captain Gustavus Bachman as a home for his wife and family. It has been in the Bachman family ever since. Laurie and Steve Bachman welcome you into their home to enjoy good food, good company, and a peaceful rest.
New Hartford Magazine states that "The Old Main Bed and Breakfast offers a breakfast fit for a king... and queen. Wonderful fresh pastry and breads baked each morning, a wide selection of gourmet coffees and teas, fresh squeezed orange juice, pancakes, meat and eggs. Five stars!"

Country Route 17
New Hartford, MN
---
Return to New Hartford Virtual Tour.
Return to New Hartford's home page.
---
<URL:http://City-NewHartford.US/ombb.html>
© Stan Johnson, 1995+
---