Donald's RibRoom
---
New Hartford, Minnesota
---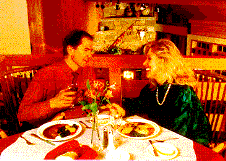 "A fine selection of European and American cuisine. Priced for your pocketbook."



Don and Karen Miller, owners of Don's Original on Route 5 opposite the Post Office, have opened up their new Donald's RibRoom inside Don's Original. Donald's RibRoom is open all week. The new RibRoom features a bar, new lighting, wooden blinds, large screen TVs, table service, a new expanded menu and even a new entrance. Check it out. It is very nice. Stop by for drink specials and hors d'oeuvres on Saturday and Sunday. Live music will be featured Saturday night. Karaoke with "Little Jimmy" each Sunday 7pm until closing. Traditional counter service is available in the front part of the building.



327 East Main Street
New Hartford, MN
---
Return to New Hartford Virtual Tour.
Return to New Hartford's home page.

---
<URL:http://City-NewHartford.US/ribroom.html>
© Stan Johnson, 1995+
---